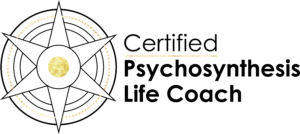 The next Psychosynthesis Life Coach & Leadership Certification Program begins March 6, 2024. Graduation is December 15, 2024. Enrollment is NOW OPEN.
Program classes will take place on Zoom 12-2pm ET Wednesdays (and occasional Thursdays). There are 3 virtual weekend intensives, supervised coaching labs, personal mentors, special guest teachers, a soulful community of incredible change-makers, and alumni retreats.

This is a 160+ hour CCE accredited Psychosynthesis Life Coach & Leadership Certification Training Program. Training leads to Certification as a Psychosynthesis Life Coach (PLC). For those qualified, it also leads to a Board Certified Coach (BCC) Accreditation.
Psychosynthesis Coach training works with the principles of psychosynthesis, a transpersonal psychology. In psychosynthesis coaching, the coach and client are a team devoted to supporting the client's movement towards purpose, meaning and values, in large or small ways, in personal and transpersonal arenas, in daily life issues, for executive or business needs and in groups or individually.
Going through this program was such a powerful experience. I feel so ready to go out there and share all the incredible tools, practices, and guidance of Psychosynthesis. This work has had a great impact on my life, and I have been doing deep work for a long time. It's given a framework and a language to some of my peak life experiences expanding my awareness, inspiring determination, and leaving me feeling capable to take action at will. It's been so beautiful to witness the person you are guiding find those connections as well. I am forever grateful for this opportunity.
- Sandra Trujillo, Psychosynthesis Life Coach
These amazing and passionate teachers change lives. The flow of this program was great for me. I loved every moment. Taking part in this program has been the best decision I have made for myself, my family, my community and beyond.
- Lauren Bousquet, Psychosynthesis Life Coach
The program has changed my life forever, and I am so excited to continue to deepen in psychosynthesis and be connected to this global community of changemakers.
-Nathan Wainwright, Psychosynthesis Life Coach
Psychosynthesis Life Coach & Leadership Certification Program Details
This program is designed to meet the needs of people newly entering the field of coaching and those who are already coaches and want to become certified in Psychosynthesis Life Coaching (Certified Psychosynthesis Life Coach -PLC). People with appropriate credentials will also be eligible for national certification as a Board Certified Coach (BCC) through CCE-global, the credentialing arm of the National Board of Certified Counselors.
I took this course expecting it to change my life. What it did was completely transform my way of being and helped me to uncover who I actually am and hold that person with unconditional compassion. I now have the language, tools, and courage to hold others in the same regard and confidently and joyfully teach them to embrace love, consciousness and curiosity. I have nothing but endless gratitude for the teachers in this program. This was beyond worth every ounce of time, energy, and investment.
- Chelsea Jean, Psychosynthesis Life Coach
This was one of the MOST amazing experiences of my life. I was a coach going into the 9 month Psychosynthesis Life Coaching program and I sought more structure and connection. I got SO much more than I ever imagined!
-Monica Reyes, Psychosynthesis Life Coach
The decision to take part in this program was one of the best choices that I have ever made.
-Ian Jones, BCC, Psychosynthesis Life Coach
In this life-transforming course, you will experience theory and embodied practice, develop effective, comprehensive coaching skills and tune in to deep personal intuition, transformation and empowerment.
Experience Profound Personal Growth:
Gain rich consistent insight into your Self, Ego and Universal Consciousness
Develop deep awareness about the way you identify or limit yourself and others, exploring and working with your own sub-personalities
Learn mind-shifting tools that support activation of your will and the ability to respond to each situation from your highest intention and values
Understand your own Call of Self-- not just purpose-driven, but soulfully, driven by divine purpose.
Explore levels of awareness through understanding the conscious and unconscious realms within
Connect more deeply with your Higher Consciousness
Develop each of your own psychological functions- sensation, emotion, impulse-desire, imagination, thought, intuition, will and personal self
And so much more
From this embodied space, you will learn how to hold space for others as a psychosynthesis guide, a board certified Psychosynthesis Life Coach!
You Will Learn:
Theory and practice that include the use of the full range of psychological functioning
Deep work with sub-personalities in others
All the insightful maps into our inner world
Techniques of imagery, dialogue, journaling, goal setting, cognitive, emotional, and sensory awareness and more
Coaching and business skills to give you confidence to support others on their journey and create a thriving way of being in service to the world!
---
Participants are encouraged to look into the BCC credentialing process and their specific requirements, if board certification is a desired goal (http://www.cce-global.org/BCC).
---
Tuition:
The tuition for the 160+ hr Accredited Psychosynthesis Life Coach & Leadership Certification Program is a one time payment of $9,997 USD.
A deposit of $997, interview and application are required to hold your space in the program. (The deposit is part of the total tuition). 
After submitting a $997 deposit, students may choose from three different payment plans. The standard payment plans usually begin the month the training program begins and must be completed by the month of graduation. These payment options are equal payments per the terms below:
3-month payment plan for $3,100 per month

6-month payment plan for $1,600 per month

10-month payment plan for $990 per month
*Students who wish to begin their payment plans early, may apply for an extended payment plan option. This option supports those who wish to have lower payments each month and is only available for early registrants.
I recommend this program to anyone who is in the position of guiding others as well as for those who are seeking their own personal spiritual growth and healing.
- Julie Clark, BCC, Psychosynthesis Life Coach
The psychosynthesis life coaching program was the most powerful and transformative training program I have experienced. I have gone through other long term programs which have been rewarding, however, my growth through the Psychospiritual Institute was one that truly changed my life...
- Dass Shanti, Psychosynthesis Life Coach
The next Psychosynthesis Life Coach & Leadership Certification Program begins March 6, 2024. Graduation is December 15, 2024.
Enrollment is NOW OPEN.